If you would prefer to listen to the audio version of this blog, use the media player below.
3PL warehouses must differentiate before they're swallowed by economies of scale
Truth be told, there's not a lot that separates top-tier 3PL (Third Party Logistics) providers. Flip through a stack of RFPs and the biggest differentiators are usually the DIFOT (Delivery In Full, On Time) or 'data insights', but can't your ERP do that?
It's because 3PL warehousing is commoditised—everyone offers a similar service for a similar price. Problem is, when markets become fixated on evaporating margins and economies of scale, the largest operators always win, while everyone else is pushed out. 
It's a slippery slope that's already manifested as 3PL's top problem in 2020: "finding and retaining customers". 
The thing is, 3PLs don't have to just compete on price. 3PLs can differentiate and stand out amongst a sea of same-same RFPs. And it starts with smart integration that benefits end customers, suppliers, retailers, and 3PLs.
We're talking about 3PL integration that…
...automates purchase orders and invoices.
...creates visibility and accountability across your supply chain.
...improves the rate at which orders are processed and delivered to customers.
...gives you access to data and intelligence that helps you and your partners.
…transforms your warehouses into a truly automated "paperless" operation.
We could go on and on about the advantages of automation (we do here) but the one thing to know is, a 3PL's ability to integrate into its partner's systems will be the key differentiator going forward.
So here it is, how 3PLs can attract and retain customers through integration with large-scale and smaller suppliers.
Integrating with large-scale suppliers
Integrating your larger customers directly with your warehouse management system (WMS) is a relatively simple process -- a connector at your end and a connector at your supplier's end.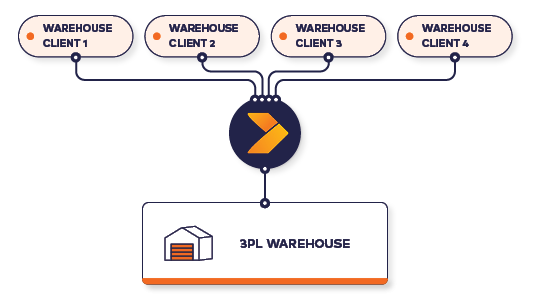 This simple connection has a massive upside for both you and your customers.
Stock feeds 
Stock feeds between your warehouse and your warehouse customer's website are automatically updated so their customers know when items are available or sold out.
Full visibility
You and your customers have full visibility over stock and order statuses -- arrived, processed, shipped, delivered -- and your customer can pass that information on to their customers.
Error reduction
It reduces the number of errors that arise when keying manual orders so orders are shipped correctly and on time.
Built-in accountability
It builds accountability into your operation. So when an order does go missing, and the blame game starts, there's a record of it passing (or not passing) through your integration system -- that is, you can see exactly where things went wrong and correct them quickly.
Integrating with smaller suppliers
For the longest time integration has been reserved for 3PLs that operate at scale. And while there are more gains to be made at scale (as is true of most things in business) this isn't the whole truth.
If the majority of your business comes from several smaller vendors, you can still tap into integration benefits -- such as stock feed, visibility, error reduction, and accountability -- that larger integrations promise. What's different is how you integrate.
At Crossfire we create low-cost 'jobs portals' for 3PLs which collect vendor information and feed it directly into their WMS. 

Just like larger integration, you have visibility over all of your transactions which means you can manage incoming and outgoing stock.
A hybrid approach: the best of both worlds
The beauty of these models is that they work in tandem. You can continue to collect smaller orders through a jobs portal while integrating high volume customers directly.

The "knock-on data" effect
These immediate benefits are just the tip of the iceberg. Once information is freely flowing between systems you can tap into an even greater differentiator: data intelligence.
Better manage  inventory and incoming orders. 

Spot positive trends and potential problems for order status details. 

Anticipate future workloads and estimate peak season task management. 

Manage resources for improved profitability, such as parcel spend, accessorial charges, and shipping times.
When you're delivering this kind of insight and value to your customers, your 3PL offering becomes a whole lot stronger than all those other 3PLs that are only competing DIFOT. You have a true 3PL differentiator. 
Crossfire for 3PL's
Crossfire's cloud-based 3PL integration delivers real-time visibility and notifications throughout the order fulfilment process between you and your trading partners.
Crossfire has developed the APIs of many ERP's, IMS's and eCommerce platforms, allowing direct integration into both your and your customer's systems, enabling you to provide a better service to them which will make them more likely to stick around.
Because Crossfire is a cloud-based system, you don't need to upend your existing integrations. So next time you're integrating with 3PL warehousing software, let us know.