Connect with Cin7 Core, without the complexity
Fully-managed means your integration setup and support is totally taken care of.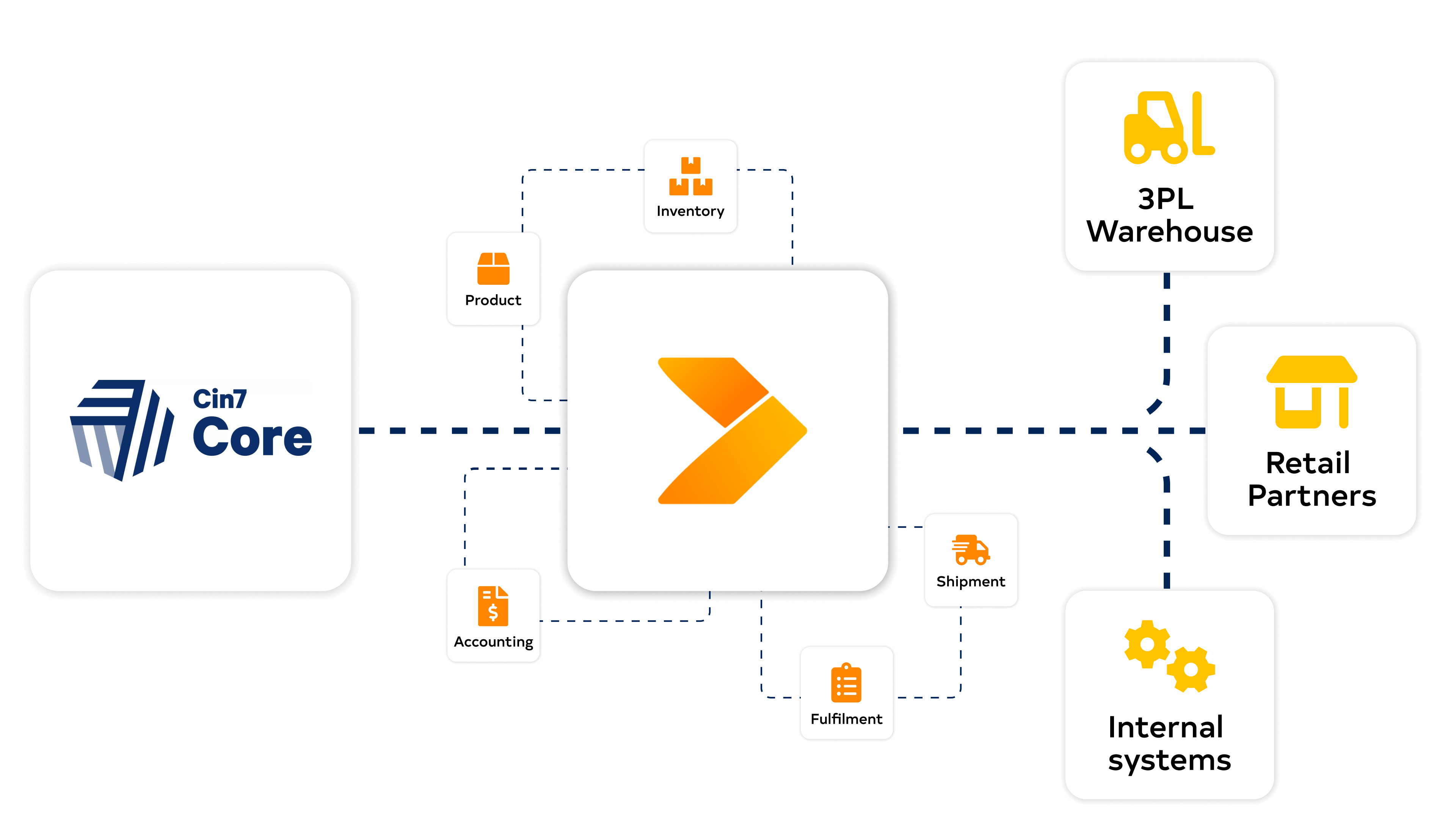 Expert integration, made easy
Crossfire provides the most comprehensive Cin7 Core EDI integration solutions. Our proven approach is flexible and customisable to exactly what you need, ensuring your business is getting the most it can from automation.
We're trusted by a wide range of customers to supply fully managed EDI services, ensuring a robust and efficient integration between Cin7 Core and external service providers.
Crossfire's fully-managed integration service
Why use Crossfire for EDI?
01.
Fully managed service
Working with us requires no in-house EDI knowledge, we take care of everything involved in your integration.
02.
Automated data flow
An automated ordering process that reduces errors and
increases efficiencies.
03.
Simple pricing
Unlimited messages, Crossfire is a fixed monthly price.
04.
Fast and proven integration
Crossfire can draw on years of experience with Cin7 Core EDI integrations and take into account unique business processes when developing a solution.
Cin7 Core Integration with Crossfire EDI Requirements
Common EDI Requirements
Other EDI Requirements
See Crossfire EDI in action
How OOB Organic developed a fruitful business with EDI Integration
How Golden Goose Foods have built a recipe for success with automation
Human-level integration with BDO
Our service
Setting up your integration
A one-off setup cost per connection; includes:
Requirements analysis
Liaising with all stakeholders
System and data review
Implementation of formats, transports and rules
Internal testing
End-to-end User Acceptance Testing (UAT)
Go-live
Monthly hosting and support
An ongoing monthly cost per connection; includes:
24/7 phone and email support
AWS hosting with 99.99% uptime
No 'per message' fees
Management of errored messages
24/7 system monitoring and alerts
Maintaining system API updates
Access to the Crossfire Orders Portal for easy self-support
What is Cin7 Core?
Cin7 Core (Formerly DEAR) is a comprehensive cloud-based inventory management application designed to help small businesses get better visibility of orders and inventory across all sales channels and locations. Offering complete back end management with Purchasing, Sales, Warehouse management, Manufacturing, and Ecommerce integration capabilities, Cin7 Core is a must-have for any business owner looking to accurately and efficiently manage inventory.

Complete visibility of orders and inventory

Manage orders from all sales channels including wholesale, retail and online sales. With all inventory movements recorded in real time, easily check what stock is On Hand, Available for sale, sitting on order with supplier or already allocated to a customer order.

Warehouse management

Have grown and moving into multiple locations? No problem with DEAR Inventory. Set dedicated reorder points for individual locations, create bins within locations and use barcode scanners to receive and pick stock.

Bill of Materials/Auto assembled kitsDear Systems and Xero

If you manufacture your own products or simply sell bundled goods, you can utilise Bill of Materials functionality. Either manufacture your products in advance or let DEAR compile these for you automatically at the time of sale and subsequently reduce the quantity of relevant components.

Batch/Lot and serial number tracking

DEAR provides complete traceability of batch/lot, serial number and expiring inventory. A must have feature if you need to track specific pieces/batches of inventory. Especially useful for food or electronics distributors/manufacturers.

Drop Shipping

Set all, or specific, items to be shipped directly from your supplier to customer for ease of use and the smoothest possible transaction.

Reorder and Backorder

Set low stock reorder points which automatically trigger a purchase order to your suppliers. Don't have enough stock to complete an order? Use backorder functionality to automatically trigger a purchase order to suppliers and fulfil your order when stock arrives.

Financial Reports

Whether used in conjunction with an accounting application or in standalone mode, DEAR Inventory delivers vital financial information via the powerful reporting module. Easily view and export your balance sheet and profit & loss statement by product.
Get a quote for integration with Cin7 Core